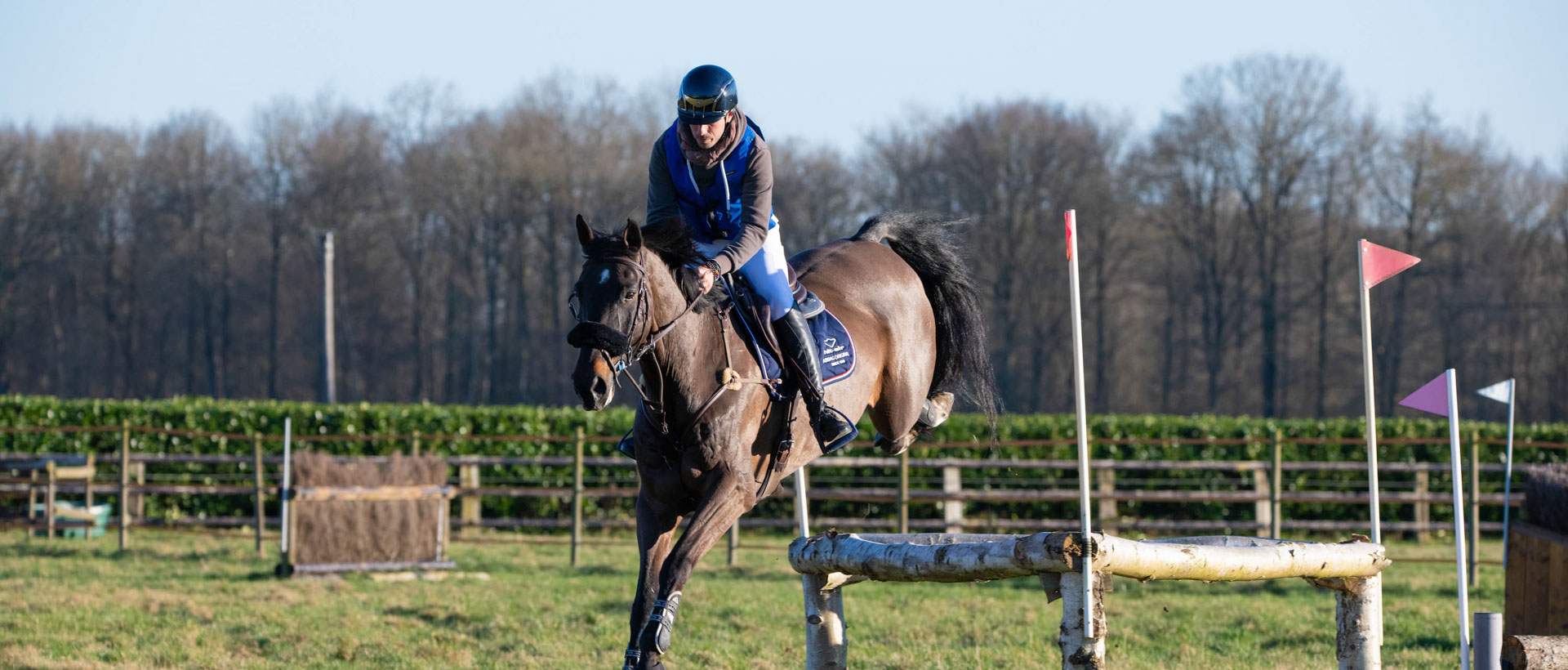 Sébastien Cavaillon
Facts
DISCIPLINE
CCE
NATIONALITY
French
DATE OF BIRTH
7 July 1983
PLACE OF BIRTH
Wissembourg, France
---
Biography
Born in 1983, he started riding at the age of 8 at the Poney-Club of Vélizy (78). In 1997 he joined the ACBB riding club in Boulogne (92) and in 2000 he took part in the French Club Championship in show jumping. In 2001, he was French Champion of the clubs by team in CCE. From 2002 to 2004, he was at the Paris Polo and competed in show jumping and dressage. In 2006, he obtained the state diploma of equestrian teaching (BPJEPS in Jardy).
From 2006 to 2007, he was a rider with Frédéric de Romblay (former French eventing champion) where he started competing internationally.
At the end of 2007, he created the EARL Equi-Complet.
In 2013, he and Julie Bordenave acquired the Montmal stud farm where Equi-Complet was established.
In 2011, he was selected as a high-level athlete and received support from the Haute Normandie Region and the Eure Department.
From 2008 to 2012, Sébastien was ranked 1st in Normandy among professional riders in CCE (FFE) and selected with Only One du Reverdy in the FFE Olympic/World Games group
In 2013, Michel Lancelot entrusted him with Sarah d'Argouges, whom he qualified for the World Championships in Lion d'Angers, and he obtained with her the selection for the CCI*** in Boekelo in October 2015.
In August 2018, Sébastien and Sarah joined the French team.
In October 2018, first selection with Sarah d'Argouges for the 5 stars in Pau, they finished in 15th place/60 and were ranked.
In 2019, selections for the 5 star Badminton where they finished 27th/82 and Burghley with a magnificent 11th/67th place on the most difficult cross country in the world (half of the competitors will not finish the cross country).
Selection in Group 1 of the French Eventing Team.
In 2020 Pre-selected for the Tokyo Olympics.
In 2021 Pre-selected for the Olympic Games in Paris 2024; Sébastien Cavaillon is also 2nd with Paris Boston Z in the CCI4-L in Lignières, 6th in the CCI4-L in Saumur with Sarah d'Argouges and 1st by team in the CCIO4*-S event of the Nations Cup at Haras du Pin
---
Palmares
2021
Saumur CCI4*-L with Sarah d'Argouges 6th
Le Pin au Haras CCIO4*-S - Team event 1st with Sarah d'Argouges
Lignières CCI4*-L with Paris BostonZ 2nd

2020
Barroca d'Alva (POR) CCI4*-L with Uky de l'Orangerie 11th
2019
Hartpury CCI3-L (GBR) with Paris Boston Z 6th
Burghley (GBR) CCI5-L with Sarah d'Argouges 11th
2018
Saumur CCI*** with Sarah d'Argouges 9th
Pau CCI5-L with Sarah d'Argouges 15th
Haras de Jardy Circuit Top 7 CCE 2 with Paris Boston Z 4th
2014
Hartpury (GBR) CCI** with Sarah d'Argouges 7th
Chateaubriant CIC** with Only One du Reverdy 1st
2013
Le Lion d'Angers 7 years old World Chpt with Sarah d'Argouges
2011
Le Lion d'Angers 7 years old World Chpt with Sarah d'Argouges
2010
Saumur CIC **with Only One du Reverdy 4th
2009
Le Lion d'Angers 7 year olds World Chpt with Only One du Reverdy 13th